The Range of Our Supplies and Services
K - 2 provides solutions to problems and supplies, turn-key equipment & solution for in-house pickling and passivation.

K - 2 can determine the optimum processing procedure for the customers production components and ensure consistent results when operating under continuous production conditions.
The basis for this is
1
the supply of the complete plant package, tailored to the process criteria and incorporating pre and post-
treatment stations
2
the supply of the chemicals
3
the training of the operators
4
K - 2 SERVICE is qualified in operating these processes and offers a service on a sub-contract basis.

The Environment

Operating with the K - 2 Processes for chemical polishing and deburring produces weak acidic rinse waters which require treatment and disposal in line with the regulations of the local water authority.

K - 2 builds and supplies compact units for this purpose.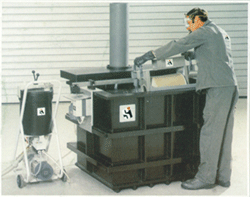 We are in technical collaboration with Poligrat GmbH